Chrismas Party 2022
2022.12.28更新
FJAS Christmas Party for 2022 was held at the Hilton Fukuoka Sea Hawk on December 12 (Mon.).
As in the previous year, as a measure to prevent the transmission of the new coronavirus, the party was limited to members and their accompanying persons and was held in a seated style.
A total of 55 people attended this year, including Consul Sharon Bignell of the Australian Consulate in Osaka.
The party started with a speech by our Chairman Michiaki Uryu. He spoke about the Memorandum of Understanding recently concluded
between Fukuoka Prefecture and the New South Wales Rugby Union , as well as the delegation sent by the Society to Australia.
Consul Bignell also spoke about the friendship between Australia and Japan, and proposed a toast.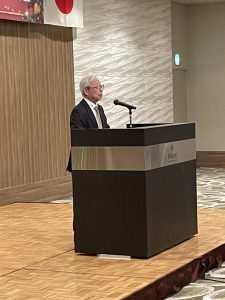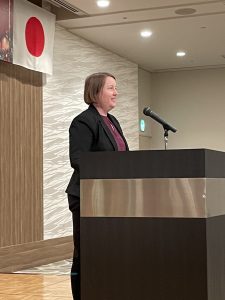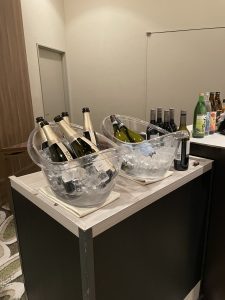 Chairman Uryu               Consul Bignell  
As in previous years, we prepared Australian-inspired food and wine. Guests enjoyed meals while watching a slide show introducing the year-long activities of the Fukuoka Japan-Australia Society and listening to a Christmas song performed by the Kyuden Brass Band, which had not performed at the event since 2019.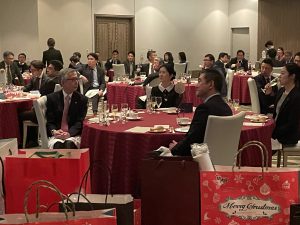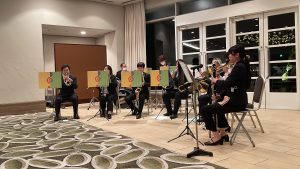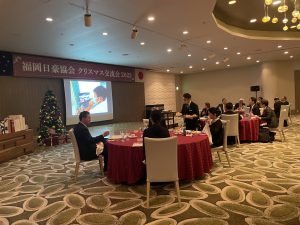 The Kyuden Brass Band
At the annual Christmas raffle, Santa Claus came and everyone received their winning gifts.
Thanks to the many sponsors we received this year, all participants were able to receive prizes.
We would like to extend our sincere thanks to all members who cooperated in sponsoring the event.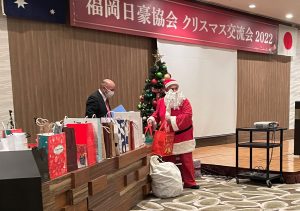 Christmas raffle
At the end of the party, Mr. Higuchi, a member of the Fukuoka Prefectural Assembly and chairman of the Fukuoka International Exchange Promotion Councilors' Association, gave a closing speech.Thanks to the support of all members, this year's Christmas party was a great success!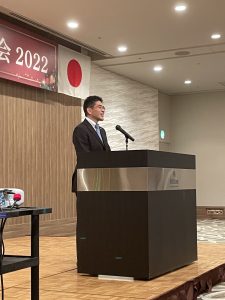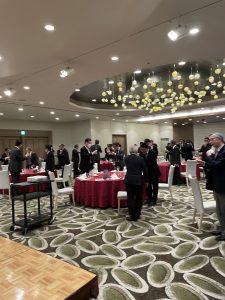 Higuchi Fukuoka prefectural assembly member  
Hopefully next year we can have unlimited events.
Have a very Merry Christmas and a Happy New Year!!