About Fukuoka Japan-Australia Society
 Fukuoka is located in the southwest part of Japan and has been the nation's portal for exchanges with other countries since ancient times.
 The success of the "Asia-Pacific Exposition" held in Fukuoka in 1989 helped to promote its reputation as an international city both at home and abroad. Following this event, direct flights between Fukuoka and Sydney were initiated in October 1989, so that more attention to the various exchanges with Australia has been raised in Fukuoka. The FUKUOKA JAPAN-AUSTRALIA SOCIETY was established on September 28th 1990, to foster these organized activities in an atmosphere of friendliness and mutual interest.
Purpose of Establishment
 Fukuoka Japan-Australia Society was established to deepen the mutual understanding between Japan and Australia through cultural and sports exchanges. Also to promote the ties of friendship between the two countries.
Activities
Holding and lecture gatherings to promote mutual understanding and friendship between Japan and Australia.
Holding Christmas Party and other events for goodwill ties among the members.
Running the homepage to introduce the activities of the Society.
Providing information concerning Australia.
Dispatch of goodwill mission to Australia.
Arranging exchange of short period home stay program for junior and/or senior high school students.
Collaborating with the Australian Consulate-General Fukuoka to promote activities for goodwill exchanges between Japan and Australia.
Organization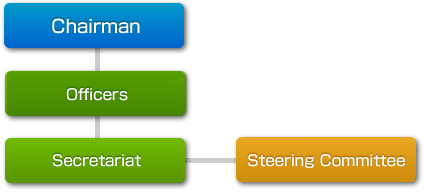 Space Cube Bldg 3F, 1-7-11, Haruyoshi, Chuo-ku, Fukuoka, 810-0003 Japan
TEL: +81-92-726-1689 FAX : +81-92-726-1693
Copyright (C) Fukuoka Japan-Australia Society All Rights Reserved.